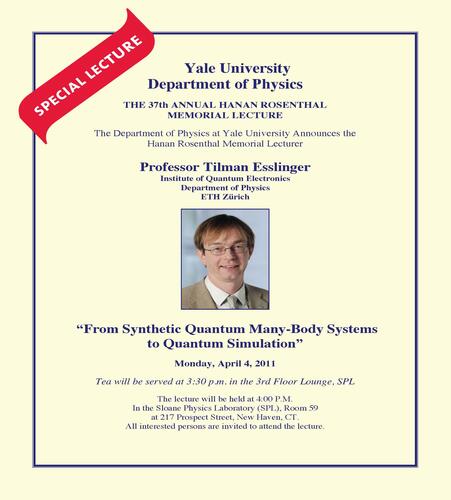 The Yale Physics 37th Hanan Rosenthal Memorial Lecture was given on April 4, 2011 by Tilman Esslinger, ETH.
Monday, April 4, 2011 - From Synthetic Quantum Many-Body Systems
to Quantum Simulation
The Hanan Rosenthal Memorial Lecture was established in honor of physicist Hanan Rosenthal, a brilliant graduate student at Columbia University and instructor at Yale. This annual lecture in atomic physics, Rosenthal's field, is given by a distinguished leader in the field. Originally, the lecture series alternated between Columbia and Yale, which were both significant in Hanan Rosenthal's career; in recent years, the lecture has been held only at Yale University.