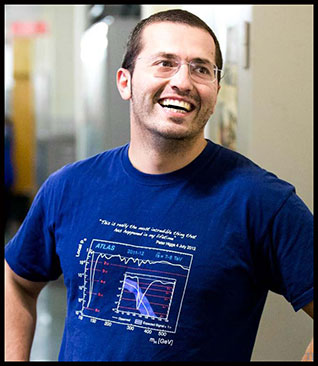 It is with great sadness that we must report  that our colleague Andrey Loginov, Associate Research Scientist working on the ATLAS experiment at CERN,  passed away Wednesday night after a brief illness.  Andrey's passion for physics and commitment to the ATLAS experiment were only surpassed by his zest for life and his loyalty to his friends.
Andrey was born in 1977 in Tomsk, Russia.  He received his Bs., M.S. and PhD from Moscow Institute of Physics and Technology (MIPT).  His PhD was conducted as part of the CDF Collaboration, with Henry Frisch of University of Chicago as his research advisor.   He joined Yale University in 2006 to begin working on ATLAS.  Starting in 2006 he took a lead role in the ATLAS particle tracker (the TRT) installation and commissioning, then turned his attention to detector operations.  As Top-Quark Cross Section Working Group Co-convener from 2009-2011, he was an early proponent of top quark physics at ATLAS.   Over the last 8 years Andrey led several data analyses and made significant contributions to many others.  He accomplished all this while being a very active and committed leader in the TRT community, being the TRT Run Coordinator since 2011.
Those of us who knew Andrey will agree that he had an amazing work ethic but we also knew him as a great instigator of fun; he worked hard and he also played hard.  His natural leadership extended beyond work into his social life where he showed a talent for organizing social events that would build community, celebrate accomplishments and generally be a great time.  As a gifted photographer Andrey captured many of these moments so we can still enjoy them, and in some way they will help us keep our memories of Andrey alive as well.
Andrey would want us to celebrate his life, not mourn his passing, but his friends and colleagues will surely miss him dearly.