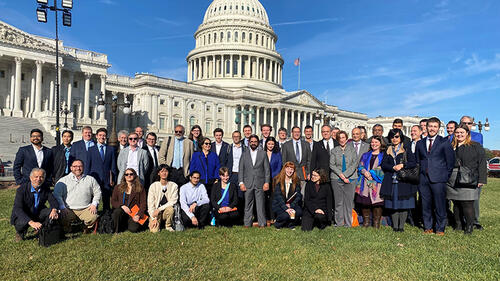 On November 8th, 2023, Wright Lab postdoctoral fellow Fernando Antonio Flor and graduate student Sierra Wilde joined nuclear scientists from across the United States  for a Nuclear Physics Day on Capitol Hill to inform elected officials and their staff about the 2023 Long Range Plan for Nuclear Science that was recently issued by the Nuclear Science Advisory Committee (NSAC). The plan provides a road map for advancing the nation's nuclear science research over the next decade, highlighting scientific opportunities for maintaining world leadership and training the workforce. This document also highlights the impacts of Nuclear Science research on other fields as well as beneficial applications to society.
Subgroups of scientists attended arranged meetings with legislative aides representing the offices of their respective members of Congress. Flor and Wilde attended meetings with the following offices: Congresswoman Rosa DeLauro (Connecticut – District 3), Senator Richard Blumenthal (Connecticut), Senator Chris Murphy (Connecticut), and Senator Ed Markey (Massachusetts).
During these meetings, Flor and Wilde discussed the issues included in the Long Range Plan and explained how the Long Range Plan will locally benefit and impact members of the nuclear science community at Wright Lab.
Flor said, "It was quite pleasing to see how receptive the offices of our representatives and senators are to the recommendations issued out by our Long Range Plan. It goes to show the importance of local advocacy for such initiatives, particularly from the early career members of our community, as well as extending our reach to other states and districts whose policies might misalign with our recommendations."
Wilde said, "I was very encouraged to see the support for nuclear science when we discussed the Long Range Plan to Congressional staffers. It was also very interesting to be involved in science advocacy and to experience part of the policy making process. These meetings made me realize how impactful the input from a couple individuals can be."
This story is adapted from the story published on the Wright Lab Media Page on November 10, 2023 by Victoria Misenti. See below for original story and related links.