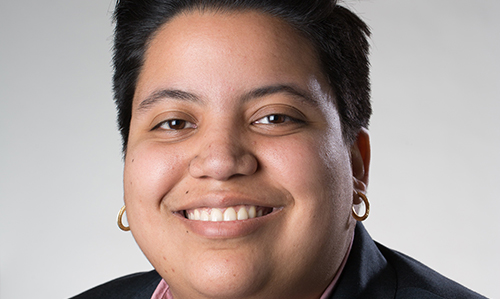 Yale Physics graduate student Iris Ponce has been awarded the inaugural Yale Physics Graduate Diversity Fellowship for Fall 2021 to work with Reina Maruyama, professor of physics, on a study of how students enter or leave the Yale Physics undergraduate program.
Maruyama said, "I am very excited to work with Iris on this project. Having data and feedback on undergraduate experience in Yale's physics department is absolutely key as we work to improve our curriculum and teaching. Students must feel they belong for them to thrive."  
The fellowship is part of a pilot program of Physics Diversity Fellowships for graduate students to promote student efforts in Diversity, Equity, Inclusion and Belonging (DEIB) in the Physics Department.  The fellowship is awarded on a competitive basis following an application process and committee review. 
Rona Ramos, graduate program coordinator in physics said, "For many years, graduate students and graduate student groups have made many contributions to improve the department community. It's wonderful to have a position like this that supports a focused and dedicated effort on a student-initiated project. I'm ecstatic to have Iris as our inaugural Diversity Fellow, and excited to see the impact her project will have on our department and our undergraduates."
Physics Diversity Fellows receive a supplemental stipend and are encouraged to add the distinction as a synergistic professional development activity on their CV. Fellows typically work 6-8 hours/week in a flexible schedule that fits with most coursework. Proposed projects should be of a scope that is appropriate for the time commitment in one semester and expand on or complement existing department activities.  At the end of the semester, a short final report or presentation must be submitted.
Karsten Heeger, professor of physics and chair of the Yale Physics Department said, "Graduate students play a critical role in advancing the DEI initiatives in the Physics Department. With this new graduate diversity fellowship we aim to recognize the effort, initiatives and ideas students bring to developing and improving our department community. Iris developed an outstanding proposal for this fellowship. Her project will help us understand how we can enhance the undergraduate experience in Yale Physics."
For more information about the fellowship and its application process, please see the department website.