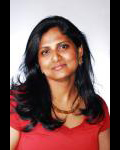 Priyamvada Natarajan (Professor of Astronomy) in Yale News (February 4, 2020), "Franke Program, blending science and humanities, hits the right note".
"We are creating an expanded community of interdisciplinary scholars across academic stages," said Priyamvada Natarajan, the Yale professor of astronomy and physics who directs the program. "The radical, transformative ideas that will reshape and impact the world will come out of cross-disciplinary engagement. Our goal is to foster collaborations that will inspire creative thinkers at Yale who will leverage these new strengths to make breakthroughs."
Students and postdoctoral researchers are invited to apply for future Franke Program projects.