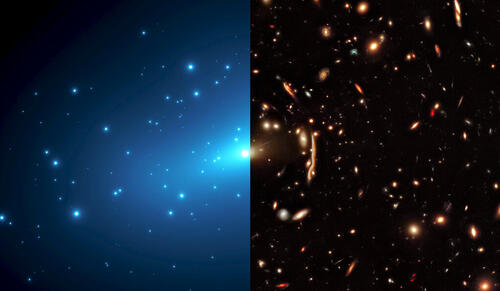 Yale News (September 10, 2020), "Holding up a mirror to a dark matter discrepancy"
The universe's funhouse mirrors are revealing a difference between how dark matter behaves in theory and how it appears to act in reality.
Dark matter is the invisible glue that keeps stars bound together inside a galaxy. It makes up most of a galaxy's mass and creates an invisible scaffold that tethers galaxies to form clusters.
Dark matter does not emit, absorb, or reflect light. It does not interact with any known particles. Its presence is known only through its gravitational pull on visible matter in space.
Although dark matter is lightly smeared throughout the universe, it is heaped in regions of space called galaxy clusters. Each of these massive clusters, held together by gravity, is made up of about 1,000 individual galaxies — each of which carries its own dollop of dark matter.
In a new study in the journal Science, Yale astrophysicist Priyamvada Natarajan and a team of international researchers analyzed Hubble Space Telescope images from several massive galaxy clusters and found that the smaller dollops of dark matter associated with cluster galaxies were significantly more concentrated than predicted by theorists.
Click below for the full story.