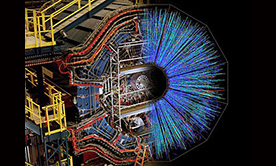 By Jim Shelton
The hunt continues for a physics phenomenon known as the "chiral magnetic effect" (CME).
Physicists from the international STAR Collaboration, based at Brookhaven National Laboratory's Relativistic Heavy Ion Collider, have released the results of a blind analysis of how the strength of the magnetic field generated in certain ion collisions affects the particles streaming out.
They were hoping to find evidence of CME — an electric current generated along an external magnetic field, caused by a chiral imbalance (when mirror-image particles are not identical). The data did not detect CME, but researchers said the experiment yielded quite a bit of useful information.
"The results represent a significant milestone in our field," said Helen Caines, a Yale professor of physics and co-spokesperson for STAR. "We believe that they quite possibly represent the most precise heavy ion measurement ever done. We are certain that they will lead to a burst of theoretical activity."
STAR's search for the CME has strong ties to Yale. Jack Sandweiss, Alexei Chikanian, and Richard  Majka, all now deceased, as well as former Yale researcher Evan Finch, who is now a faculty member at Southern Connecticut State University, spearheaded the original CME analyses for STAR.
This article was originally published as part of Yale News' "Insights & Outcomes" for October 25, 2021.