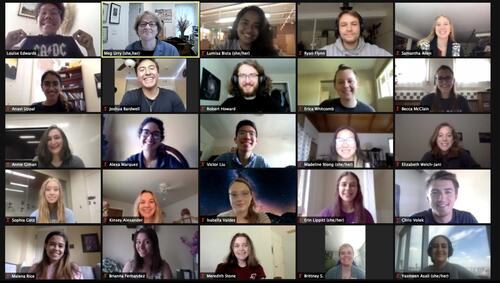 The third annual Granville Academy, a week of diversity, equity and inclusion workshops for undergraduate students doing summer research in astronomy and physics, was held online via Zoom from July 13 to 16, 2021.  
Granville Academy was designed by Israel Munson professor of physics Meg Urry and former Yale lecturer Louise Edwards as part of their National Science Foundation program on the "Accretion History of Active Galactic Nuclei".  In addition, astronomy graduate student Malena Rice joined the organizing team this year.  Granville Academy is co-hosted by the Yale Center for Astronomy and Astrophysics (YCAA),  Wright Laboratory  (Wright Lab) and the departments of astronomy and physics at Yale.  
The workshops were led by Urry, Edwards and Rice, with an invited talk by Immanuel Williams, Professor of Statistics at Cal Poly SLO and Meyerhoff Scholars alumnus; and were attended by about 25 participants.
The daily workshops were as follows:
Tuesday, July 13 (2-4 p.m. EDT): Introductions and statistics of underrepresentation I (Edwards, Rice)
Wednesday, July 14 (2-4 p.m. EDT): Fostering inclusivity: Implicit bias, stereotype threat, microaggressions, and actions that we can take (Edwards)
Thursday, July 15 (3-5:30 p.m. EDT): Statistics of underrepresentation II (Rice) and "You Betta NOT Give Up…: Words of Wisdom on your Journey towards your Ph.D." (Williams)
Friday, July 16 (2-4 p.m. EDT): Sexual harassment in academia/astronomy (Urry) and Closing (Edwards)
Urry said "our hope is that providing information to students about what kinds of obstacles they and their peers might encounter will prepare students to support one another and to counteract any negative pressures they might encounter."  She added, "students reported learning a lot of helpful information, and said they appreciated the knowledge and support."
While previous iterations of Granville Academy were in person, Urry said that "Zoom worked very well for the Granville Academy, allowing us to come together for presentations and break into smaller groups for student-only discussions."  She continued, "students who had attended the Granville Academy in earlier summers said they learned even more this time, in part because Zoom enabled lots of small group discussions."
The Granville Academy is named for Evelyn Boyd Granville, who obtained her Ph.D. in mathematics from Yale in 1949 and was the second African-American woman to receive a Ph.D. in mathematics in the United States. Granville's long career in research and teaching, including work in celestial mechanics digital computer techniques for the Apollo program, was recognized in 2000 with the Yale Graduate School Alumni Association's highest honor, the Wilbur Lucius Cross medal.