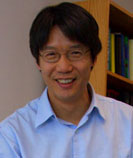 Xiao-Jing Wang (Professor of Neurobiology, Professor of Psychology, and Professor of Physics) along with three other Yale faculty members has been named a fellow of the American Association for the Advancement of Science (AAAS) for his distinguished effort to advance science.
This year 702 members were awarded this honor by their peers in the AAAS, the world's largest scientific society.
Xiao-Jing Wang, was honored for contributions to the understanding of neural processes underlying short-term memory and decision-making, and for outstanding contributions to theoretical neuroscience.