James Nikkel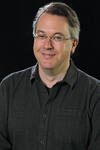 Biographical Sketch:
James received his Ph.D. in condensed matter physics physics from Kent State University, but has been working in particle physics ever since. He spend a number of years as a postdoc and scientist at Yale making every kind of noble liquid detector before traveling to England to lecture. 
He's now back at Yale largely working on detector design and development projects with a bit of simulation work thrown in for good measure (PROSPECT, Project-8, DM-Ice, etc.).  James is also the supervisor of the Advanced Prototyping Centre in Wright Lab, and would be happy to discuss any project you might dream up.
James is an enthusiastic skater and coach and spends a lot of time on the ice with the Yale Figure Skating Club.
Education:
Ph.D. 2003, Kent State University