Position Description:
We are welcoming applications from recent PhD graduates to join our laboratories as a YQI fellow!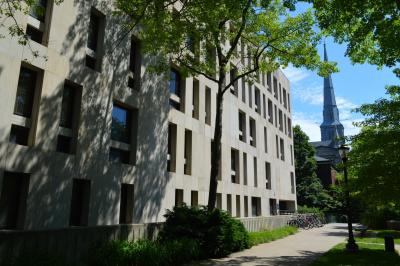 The Yale Quantum Institute (YQI), founded in 2014, serves as a forum to bring together experimental and theoretical researchers at Yale in the field of quantum information physics, quantum optics and nanophotonics, optomechanics, mesoscopic physics, quantum control, quantum measurement, and quantum many-body physics. It provides a synergistic and collaborative setting for Yale's cutting edge research in these fields. A report from University Science Strategy Committee identified quantum science as one of Yale's top priorities and Yale will play a major role in a new, national center for quantum research announced Aug. 26 2020 by the White House and the United States Department of Energy.
In keeping with the mission of the YQI, we are pleased to invite applicants for the YQI postdoctoral fellowships. These Fellowships will support research in the field of quantum science for recent Ph.D. recipients in the group of any of the YQI faculty members. Candidates should have demonstrated excellent research ability in their prior work and exceptional promise for future leadership in their field of interest. Each candidate should clearly indicate which research group (or in special cases, groups) they intend to work with, and are encouraged to contact these YQI Faculty members in advance.
A selection committee will review each application and evaluate the candidates based on the quality of their previous work (thesis and publications) and their potential for original research, within their proposed research group. Finalists will be invited to campus to give a research seminar and interview with YQI faculty members, starting in December 2023.  Preliminary interviews may be conducted online as well. 
Qualifications
YQI fellowships are intended for researchers within 3 years of their Ph.D.

The research interest of the fellows should match those of the faculty mentors and fall into areas matching the mission of the YQI.

Non-US citizens must be eligible to obtain a J-1 Scholar visa status for the duration of the Fellowship. Non-English native speakers will be required to prove English language proficiency prior to award.
Terms of Appointment
YQI fellowships are granted for a period of 2 years starting generally at the beginning of the academic year, but alternative starting states can be considered.

The institute provides a stipend of $80,000 per year plus healthcare benefits, with an annual standard raise of 2.5% each year on subsequent anniversary dates.

YQI fellows receive an annual $5,000 discretionary research fund.

YQI fellows will have extra outreach responsibilities (e.g., science outreach, contacting "YQI-sister institute fellows" at other universities and creating a network, organizing a conference or a workshop, or teaching a short YQI course…) determined at the time of hiring.

All other aspects of the YQI fellowship position will follow standard Yale policies for postdoctoral appointments.  For more details, please check this website.
Key dates
Opening for 2024 Fellowship applications: July 31, 2023

Application deadline: October 29, 2023 at 11:59 pm ET

Rounds of online interviews: November-December 2023

Acceptance notification: January 2024

Enrollment & potential visa application: Spring 2024

YQI Fellowship start: Fall 2024 (flexible)
Application
To apply, please upload the following documents on the Interfolio portal before October 29, 2023 at 11:59 pm ET:
cover letter describing (i) your past training, (ii) research interests, (iii) the group you intend to work in and potential research topics/projects you intend to pursue at Yale, and (iv) your career goals.

curriculum vitae

reprints of selected publications (3 maximum)

three references letters
Feel free to contact Florian Carle, YQI Manager at yqi@yale.edu  or (203)436-9153 for more information.
Yale University is an Affirmative Action/Equal Opportunity employer. Yale values diversity among its students, staff, and faculty and strongly welcomes applications from women, persons with disabilities, protected veterans, and underrepresented minorities.
Job type:
Prize Postdoctoral Fellowships