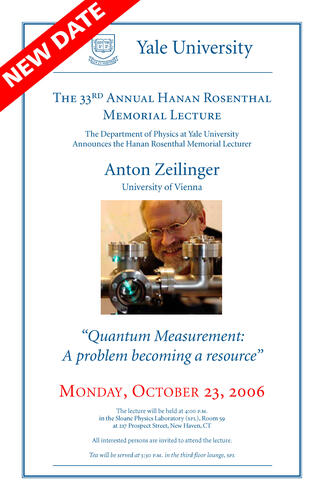 the Yale Physics 33rd Hanan Rosenthal Memorial Lecture will be given October 23, 2006 by Professor Anton Zeilinger from the University of Vienna.
Monday, October 23, 2006 - Quantum Measurement: A problem becoming a resource"
The Hanan Rosenthal Memorial Lecture was established in honor of physicist Hanan Rosenthal, a brilliant graduate student at Columbia University and instructor at Yale. This annual lecture in atomic physics, Rosenthal's field, is given by a distinguished leader in the field. Originally, the lecture series alternated between Columbia and Yale, which were both significant in Hanan Rosenthal's career; in recent years, the lecture has been held only at Yale University.