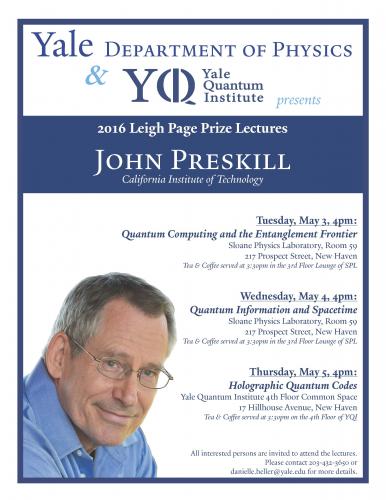 The Yale Physics 2016 Leigh Page Prize Lectures were held May 3rd, May 4th and May 5th by John Preskill of the California Institute of Technology.
Tuesday, May 3, 2016 - Quantum Computing and the Entanglement Frontier
The quantum laws governing atoms and other tiny objects seem to defy common sense, and information encoded in quantum systems has weird properties that baffle our feeble human minds. John Preskill will explain why he loves quantum entanglement, the elusive feature making quantum information fundamentally different from information in the macroscopic world. By exploiting quantum entanglement, quantum computers should be able to solve otherwise intractable problems, with far-reaching applications to cryptology, materials, and fundamental physical science. Preskill is less weird than a quantum computer, and easier to understand.
Wednesday, May 4, 2016 - Quantum Information and Spacetime
Aside from enabling revolutionary future technologies, quantum information science is providing powerful new tools for attacking deep problems in fundamental physical science. In particular, the recent convergence of quantum information and quantum gravity is sparking exciting progress on some old and very hard questions.
Thursday, May 5, 2016 - Holographic Quantum Codes
Two of the most amazing ideas in physics are the holographic principle and quantum error correction. The holographic principle asserts that all the information contained in a region of space is encoded on the boundary of the region, albeit in a highly scrambled form. Quantum error correction is the foundation of our hope that large-scale quantum computer can be operated to solve hard problems. I will argue that these two ideas are closely related, and will describe quantum codes which realize the holographic principle. These codes provide simplified models of quantum spacetime, opening new directions in the study of quantum gravity, though many questions remain.
The Leigh Page Prize Lecture series are given each year by a distinguished physicist in honor of Leigh Page who received his PhD in Physics from Yale in 1913. He was later acting Chair and Director of the Sloane Physics Laboratory. Professor Page devoted his time to teaching (mostly graduate classes), research, and writing several textbooks. Since 1967, several speakers in the Leigh Page Prize Lecture series have later received Nobel Prizes and other and notable awards. In connection with the lecture series, a prize is offered to first year graduate students in recognition of their fine academic record and for the promise of important contributions to the field of physics.