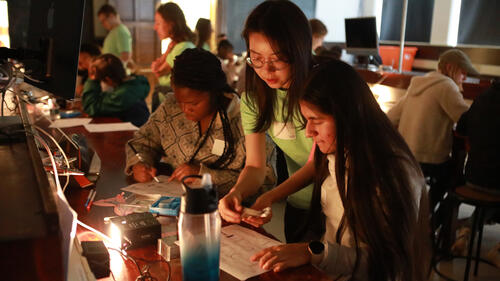 On November 4th, the Yale Physics Department, in collaboration with Yale Pathways to Science, welcomed over 100 local middle school students to explore the "World of Light" at Girls' Science Investigations (GSI). Forty members of the Yale community–faculty, staff, and students–volunteered for this full-day event; a record number since the post-pandemic return of the GSI series last spring.
Students–the majority from New Haven Public Schools–worked directly in the Yale Physics classroom laboratories, investigating the properties of light through hands-on activities. Students learned about different types of light and light sources, built laser mazes to explore the Law of Reflection, and even constructed their own diffraction glasses to observe spectrum tubes.
The event culminated in a physics demonstration show, performed by Wright Lab graduate students Emily Pottebaum, Molly Watts, and Sierra Wilde, with the support of the Yale Physics instructional lab team, Paul Noel and Stephen Irons. The team showcased all of the department's various light demos, from an infrared camera to color mixer, and also included a segment with music and dance.
Caitlin Hansen, lecturer in physics who co-directs GSI along with Rona Ramos, graduate services coordinator in physics, explained that a speaker playing music sat within a container with a latex glove pulled taut over the opening–functioning as a drum head–with two mirrors on top that vibrated with the music. With two laser pointers aimed at the mirrors, the light reflected off the mirrors to create large Lissajous figures on the lecture hall wall that visually danced as the presenters performed the "Dance the Night Away" dance from the popular "Barbie" movie.
"The GSI team wanted to demonstrate to the students that involvement in STEM is not mutually exclusive from pursuing other hobbies, like dance," Hansen said.
GSI has been a staple in the Yale Physics Department for over ten years. Its mission is to motivate, empower, and interest girls in developing the skills they need to pursue careers in science.
Allison Culbert, a physics graduate student who holds the role of GSI Coordinator in the Yale Pathways to Science office, and who was instrumental in running the event, said, 
"Most students don't see physics in a classroom setting until they are in high school, and by that point, a lot of stereotypes about science and scientists have already been ingrained. We wanted this to be an opportunity for students of underrepresented genders to see physics in a fun, exploratory environment so that when they come across it in their classrooms it's more familiar." 
Pottebaum said, "GSI does deeply important work to encourage the involvement of young people of underrepresented genders in STEM, and it was very fun to see how engaged the audience was. They were a great group of kids!"
The event was led by Culbert, Hansen and Ramos; with collaboration from Maria Parente and Rick Crouse from Pathways to Science.
Photos from the event can be found on our flickr page. All images are credited to  Atagun Isiktas.