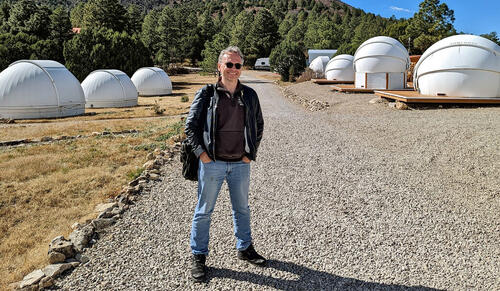 Yale astronomer Pieter van Dokkum has received the Royal Astronomical Society's Jackson-Gwilt Medal for innovations in instrumentation.
Yale astronomer Pieter van Dokkum today received the 2023 Jackson-Gwilt Medal from the UK-based Royal Astronomical Society (RAS) for his development of the Dragonfly Telephoto Array, an instrument that has achieved unprecedented success in the measurement of low-surface brightness structures in space.
A member of the Yale faculty since 2003, van Dokkum is the Sol Goldman Family Professor of Astronomy and professor of physics in Yale's Faculty of Arts and Sciences and former chair of the Department of Astronomy.
The Jackson-Gwilt Medal is awarded for outstanding invention, improvement, or development of astronomical or geophysical instrumentation or techniques. Van Dokkum and his frequent collaborator, Roberto Abraham of the University of Toronto, received the honor at a meeting of the RAS in London on Jan. 13.
"Their work has stimulated a new area of observational research by demonstrating the capabilities of ultra-low surface brightness measurements to investigate galaxy evolution and the nature of dark matter," the medal citation reads. "The Dragonfly project has also enabled many Ph.D. students to play key roles in the development and use of a state-of-the-art observational facility. The Dragonfly system and its impressive scientific productivity and significance represent an exceptionally creative and novel achievement in experimental astrophysics."
The Dragonfly Telephoto Array, located in New Mexico, features clusters of Canon telephoto lenses that are used together as a wide-field, large aperture telescope. Van Dokkum and Abraham, with their research teams, began designing the telescope in 2013 with three lenses; within the next year it will have 168 lenses.
Discoveries made with the Dragonfly telescope include a new population of ultra-diffuse galaxies and extended galaxy halos around nearby galaxies.
"The Dragonfly project was born in friendship, with Bob and I wanting to do a small project together to bring back some of the joy that we had in the beginning of our careers," van Dokkum said. "It's incredibly satisfying that it turned out so well, and, most of all, that we're still having fun."
This article is taken from the Yale News article of January 13, 2023 by Jim Shelton. Please see below for the original article and to the Royal Astronomical Society for further information.