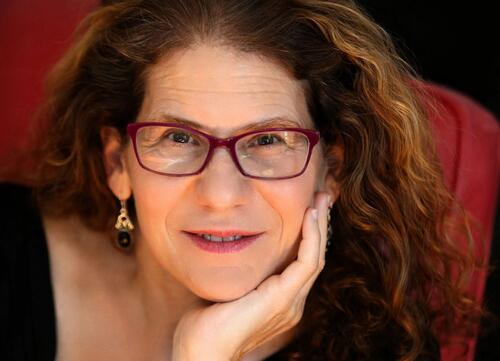 On March 25, 2021, Yale Physics alum Eileen Pollack, '78 B.S. discussed "Building a community of women scientists," a collaborative event between Women in Science at Yale (WISAY) and Poland's Nencki Institute.   The event provided an opportunity for scientists in Poland and the United States to learn from Pollack's research on the cultural, social, psychological, and institutional barriers confronting women in STEM, to brainstorm with allies on how to promote gender equity in STEM internationally, and to form new networks with scientists from another institution. 
Pollack is the author of a variety of fiction and non-fiction works, including the book The Only Woman in the Room: Why Science Is Still a Boys' Club, and is one of the first two women to earn a Bachelors of Science (B.S.) from the Yale University Physics Department.   A longtime faculty member and former director of the Helen Zell MFA Program in Creative Writing at the University of Michigan, Eileen now lives and works in Boston.  Read more about Pollack here.
Israel Munson Professor of Physics Meg Urry, who regularly writes and speaks about increasing the number of women in science said, "As a physics major at Yale in the 1970s, Eileen Pollack experienced the isolation and self-doubt that can impact any 'outsiders'.  The first step toward building an inclusive community in physics is understanding what it's like to be in a minority group, which she captured beautifully in her book, The Only Woman in the Room."
Urry continued, "In my twenty years at Yale, I have seen time and again how women coming together builds community and success."
Erin Lippitt, '22, current co-president of the undergraduate student organization Yale Women in Physics (WiP) said that "the communities of women in science [at Yale] exist both informally, when we turn to the few other women in our cohorts to support one another through classes, and formally, through organizations such as WiP." 
Lippit continued, "For me, our WiP community has been a space that allows me to open up and see that I am not alone in the obstacles I face and the questions I have, especially when I was a first-year, first-generation student navigating the transition into college."
However, Lippitt expressed concern that "these communities are under constant threat of disappearing due to institutionalized factors that push underrepresented scientists out of their fields."  She urged that Yale Physics and other physics communities not "isolate the issue to being solely about gender," and to take action to support and include women of color, transgender women, gender nonbinary students, and students with disabilities who are in the field.  Lippitt remarked, "As students, we will continue to strengthen and lean on the communities we have become a part of, but we also require institutional changes if our presence in science is to be sustained."
Lippitt, referencing the title of Pollack's book, said, "We don't just want a spot in the 'boy's club,' we want a restructuring of the system that allows us to all safely and equitably pursue our love of physics."
Helen Caines, Chair of the Yale Physics
Climate and Diversity Committee (CDC)
, said that in the years since Pollack was an undergraduate at Yale, the physics department has made significant efforts to improve the climate and
diversity
of its members. Some examples are below:
There are now nine female faculty and lecturers, and females are well represented in the department community as research scientists, postdocs, graduate students, undergraduates, and staff. 
This past year, after a department-wide conversation, the CDC led the creation of a Statement of Principles, which all members of the department are expected to follow.  
The Yale Women in Physics undergraduate student organization  has hosted three editions of the APS Conference for Undergraduate Women in Physics (CUWiP) since 2012.  The CUWiP  network of  regional conferences aims to improve the retention of women and underrepresented minorities in physics by connecting attendees with mentors of all ages, from graduate students to faculty, and thereby strengthening the community as a whole. 
Yale Graduate Women in Physics+ is focused on fostering a supportive environment for underrepresented genders in the Physics, Applied Physics, and Astronomy departments. WiP+ coordinates mentoring and social events for graduate students, post-docs, research scientists, and faculty. 
A new student group, QuARK (Queer Affiliated fRiends of physiKs), an organization focused on inclusion and support of members of the LGBTQ+ community in physics, was formed a year ago.
Yale Physics is now part of the American Physical Society Inclusion, Diversity, and Equity Alliance (APS-IDEA), which is a new initiative with a mission of empowering and supporting physics departments, laboratories, and other organizations to identify and enact strategies for improving equity, diversity, and inclusion (DEI).
The department has developed a DEI action plan establishing near-term and long-term actions to address issues of diversity and create a more inclusive department atmosphere.
Caines added, "our goal of fostering a productive, safe, and stimulating work place is an ongoing initiative, and the Yale Physics community is continuously actively thinking about further ways we can improve."