Green Workplace Certification
We have completed participation in the Office of Sustainability's Green Workplace Certification. This program is designed to educate and encourage members of the Yale community to adopt sustainable practices in their workplaces. Yale defines sustainability as striking a balance between environmental vitality, human health and well-being, and financial viability. This program is designed to offer action items that reflect that three-way balance, and to inspire members of the Yale community to help us to develop new, creative solutions to sustainability challenges.
The program involves four levels of certification: Y-A-L-E. Workplaces attain each level of certification by accumulating points as they implement action items. A workplace receives full YALE certification once they have accumulated 60 points. (Note: there are over 120 possible points, so there should be ample opportunity for all.)
The chart below shows the final certification level of our four workplaces (SPL, JWG 4th Floor, JWG 5th Floor, and WNSL) which fall under the umbrella of the Physics Department. Please see Green Workplace Certification for more details.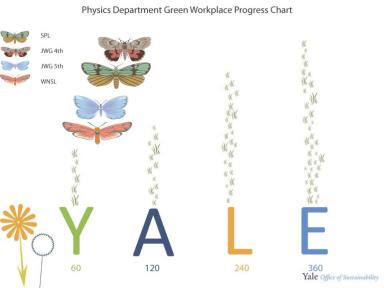 JWG 4th Floor certification = 101
JWG 5th Floor certification = 85
SPL certification = 100
WNSL certification = 82
Green Event Certification
The Green Certification program provides event planners and organizers with a set of practical steps that can be taken to "green" an event. The guidelines make available a set of minimum standards which address the environmental impact of an event in areas such as energy, transportation, waste, materials use, and food. The event is awarded a bronze, silver, gold or platinum rating. Events achieving a gold, silver, or bronze rating will be highlighted on the Office of Sustainability web site. Please see  http://sustainability.yale.edu/green-event-certification for further information.
Silver - for Hannah Carroll's Farewell Party held on July 29, 2010
Silver - for Physics Graduate Open House held on March 26, 2010
Gold - for Physics Graduate Student Orientation held on August 27, 2010
Gold - for Physics Welcome Reception held on September 13, 2010
Gold - for Physics Astro 2010 held on September 23, 2010
Gold - for Prof. McKinsey's ARI Review Meeting held on September 23, 2010
Gold - for Girls Science Investigations: Invisible World held on October 02, 2010
Gold - for Yale Physics Olympics held on October 23, 2010
Gold - for Girls Science Investigations: Material World held on November 13, 2010
Gold - for Physics and Applied Physics holiday party held on December 06, 2010
Gold - for Physics Holiday Bow Workshop held on December 14, 2010
Gold - for Minute to Recycle It held on February 25, 2011
Gold - for Physics Graduate Open House held on March 25, 2011
Gold - for Physics Fit to be Tied Workshop held on June 16, 2011
Gold - for Physics Tank Top Tote Workshop held on May 12, 2011
Gold - for Physics Picnic held on July 08, 2011
Silver - for Physics Accessory Exchange held on July 22, 2011
Gold - for Physics Solar Oven Demonstration held on August 24, 2011
Platinum - for Physics Swap held on August 30, 2011
Platinum - for Physics Welcome Reception held on September 12, 2011
Gold - for Physics Girl Science Investigations held on October 22, 2011